ON THE EDGE KNIFE SHARPENING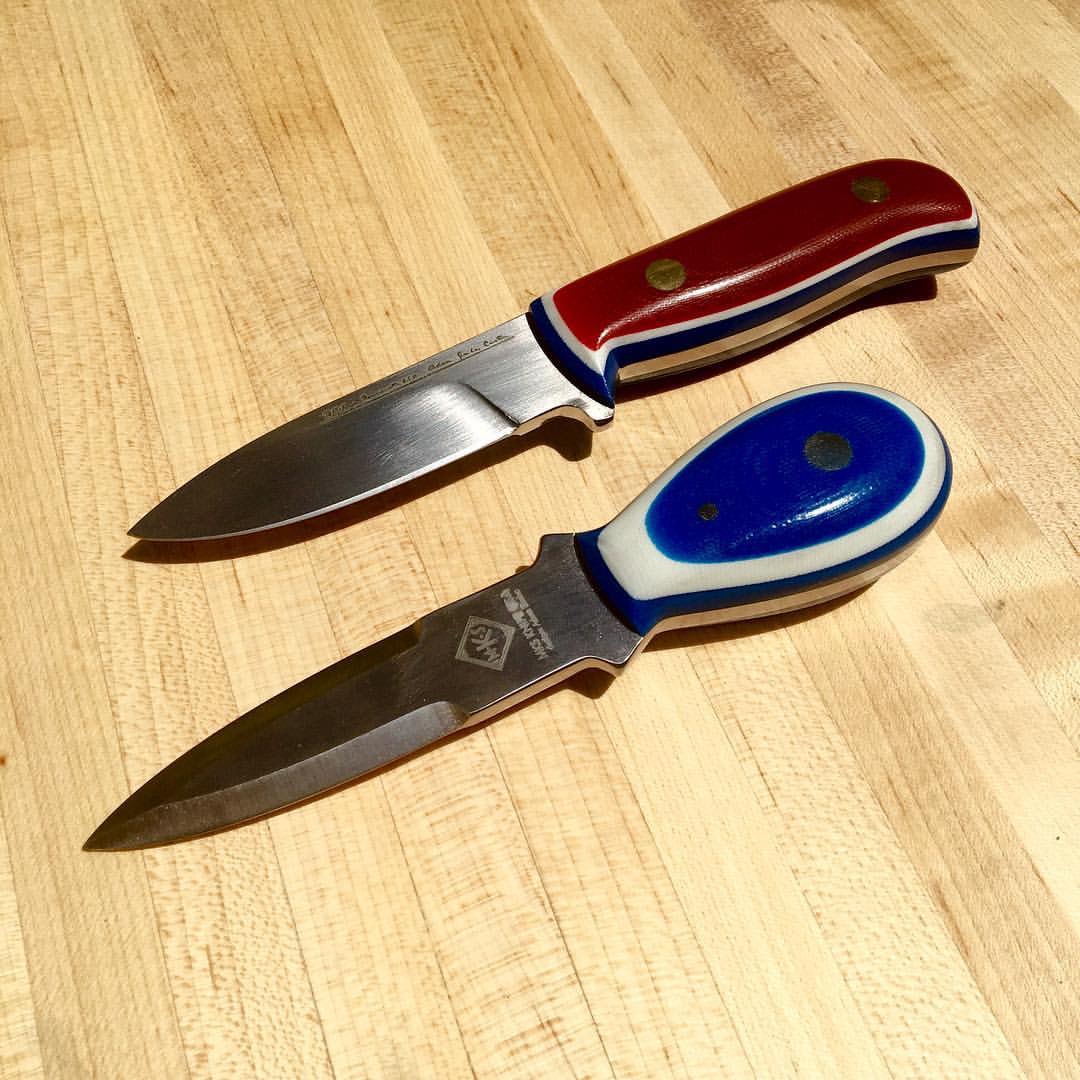 On The Edge Knife Sharpening was formed in 2008, when I decided to focus more on what makes me happy in life - working with my hands.
I specialize in hand sharpening kitchen knives (serrated and straight edge, as well as Japanese knives). I also hand sharpen scissors, including dog grooming shears, utility scissors, garden tools, other pet grooming tools - sheep shears and other edges. I no longer do saws, axes, or pocket knives.
My tools include a whet stone, ceramics and different types of polishing stones.
Special arrangements can be made to sharpen onsite for small "groups" of people at your home. Call or email for details and rates ($200 minimum for on site sharpening). References available upon request.
We are located in apple country - Bolton, in Central, Massachusetts.
Testimonials
Every knife in Boston should be sharpened by Patti...and she'll surely sharpen your soul.
8/8/16 John G. Cambridge, MA
Can't thank you enough for the great job you did on my DULL knives. They work wonderfully. All cut beautifully. Thank you.
7/16/16 Elaine H. Brookline, MA
I spent a long time working on a set of very good knives in very bad shape that I had inherited. After spending many hours working out rust and repolishing the knives, I asked Patti to repair the edge and sharpen them since I don't have any experience there. Patti was very honest when I met her at a farmer's market and said she'd need lots of time with them; within a week she had made them incredibly sharp. I was very impressed with the edges. The price was crazy reasonable for what I assumed was a lot more work then most knives require.
9/21/2015 Kelsey C. Cambridge MA
There is no other way to say it, Patti is fantastic!! She does high quality work at extremely reasonable rates. I started using her services for my business after another vendor badly messed up some of our blades. I now trust her with all of our knives, from the beaters to the heirlooms and she never fails to impress! She is a bit of a character to boot, and I always enjoy dropping by and chatting with her while she is working. An unfettered and wholehearted recommendation!!!
6/25/2016 NextGen Knives Cambridge MA
I would trust Patti Small with any of my knives. She does an outstanding job. Her hand sharpening is first rate.
7/12/2016 MKS Knives Cambridge MA
I saw Patti for the past year or so at different farmers markets and have always forgotten to bring my knives. I always admired that she seemed fussy from watching her, and she has a lot of money invested in her sharpening system (im a knife geek to an extent). She really takes her time and cares about the product her puts out, and ultimately her name is attached to.

This weekend I emailed her on Saturday to see if I could drop my knives off and beg for them back before Christmas. I knew this was a tall order, and expected a higher price, or lets of groveling. She responded right away and said NO problem! I met her at Formaggios Kitchen in Cambridge, dropped the knives off Sunday and she said she would call me when they were ready. The next day @ 9:00 a.m. "they're done!" was the email. WOW!!!

The knives came out great, the angles are both the same, nice shiny edges, and no odd scratches on my blades. I dropped off roughly $700 worth of knives and scissors, and I can honestly say I wont take them anywhere else.
12/20/2011 Jim C. Haverhill MA
Patti is terrific and charges a fair price for her services. I met her at Formaggio Kitchen in Cambridge one Sunday morning, and 45 minutes later, my three Wustofs and one Henckels were sharper than new! She hand-sharpens each blade, and she had her work cut out for her today--my beloved 9-inch Wustof chef knife had been well-loved with daily use for 5 years and had never been professionally sharpened. When I picked up the knives, each was in a protective sleeve. Tonight, I was slicing and dicing again in fine style! As a fun bonus, when you drop off your knives, you get to meet the dog and parrot that keep her company in her workshop-on-wheels. She keeps her website up to date so that you can plan when and where you want to meet her to do the knives. I chose Formaggio Kitchen so I could pick up some cheese, bread, etc, but she also goes to various farmer's markets, if that's more to your liking.
9/16/2012 Naomi L. Boston Ma